Choosing the right office size is key to creating a safe, comfortable and productive working environment for your employees. Miscalculating how much office space you need is a very common mistake businesses make and can lead to unnecessarily high overheads or cramped workspaces. At Orega, we have years of experience providing premium serviced offices for businesses of all sizes, so we know a thing or two about calculating the right size office space for your business. Read on to find out how much office space is needed per employee.
Please note that due to Coronavirus, social distancing measures may apply and result in the need for additional office space per person to meet government guidelines.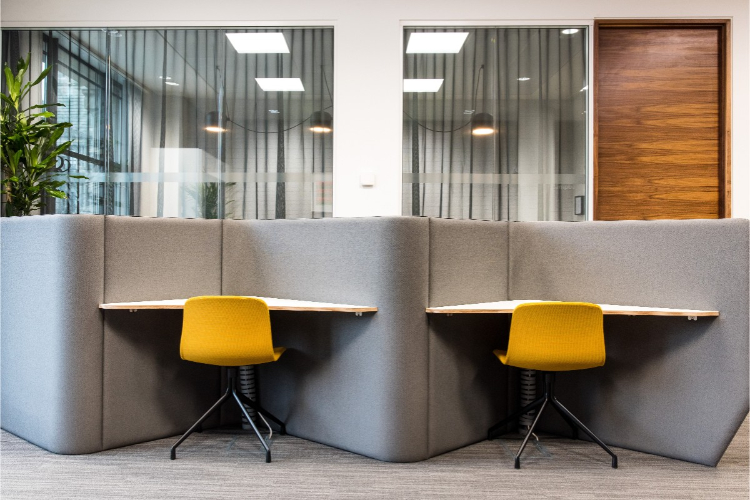 How much office space is needed per employee?
There's no one size fits all when it comes to choosing the right amount of office space for your business but as a rule of thumb, 100 square feet per employee is recommended. This should equate to approximately 50 square feet for desk space and 50 square feet for communal spaces, such as break or meeting rooms.
In more desirable locations, such as large cities, the cost per square foot is much higher and some companies will opt for slightly less space per person in order to cut costs. To cater for less space, you can install space-saving furniture such as standing desks, minimise any additional furniture, keep clutter to a minimum and have less empty floor space, making the most of communal areas instead.
To find out how much office space you need for your business, use our office space calculator.
How much space is needed for amenities?
In addition to your employees' workspaces, you also need to consider office facilities, such as kitchens and meeting rooms. Here is a rough guide for how much space is needed for each office amenity:
Small meeting room for 2-4 people = 100 square feet
Large meeting room for 4-8 people = 150 square feet
Board room for 15-20 people = 220 square feet
Conference room for up to 30 people = 300 square feet
Small server room = 40 square feet
Large server room = 120 square feet
Kitchen/refreshments area = 100 square feet


What are the UK Government Space Requirements?
The UK Government has regulations in place that ensure that businesses provide sufficient space for their employees to move around between workstations. Regulation 10 of the Workplace Health, Safety and Welfare Regulations 1992 states that the "the total volume of the room, when empty, divided by the number of people normally working in it should be at least 11 cubic metres". This means that the recommended office space per person is approximately 53 square feet.
Unknowingly, some businesses do not adhere to these regulations since much of the floor space is occupied by furniture, plants or storage units. However, it's important to note that insufficient floor area is considered a health and safety hazard and can lead to a health and safety investigation against your business or, worse, prosecution if you fail to provide your employees with the required space.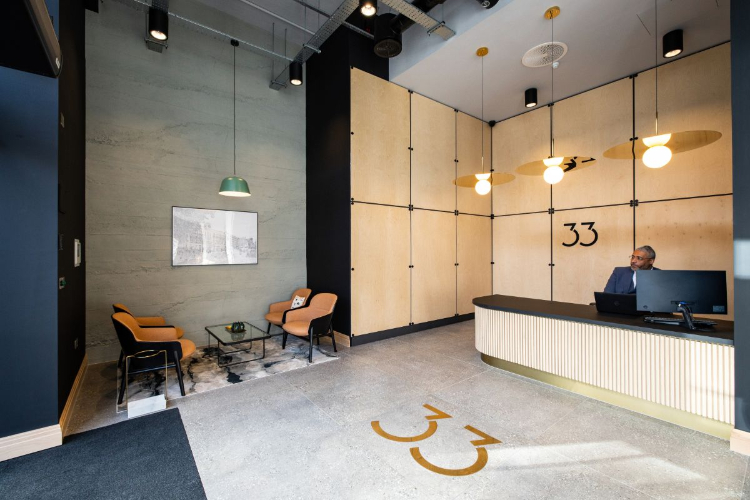 Things to Consider when Deciding Office Size
Remember, not all office space is created the same and there are a number of considerations you need to make when deciding to rent an office, such as the shape, the location and available building amenities.
Shape of Your Office Space
It is important to consider the shape of the room as some square meterage takes into account oddly shaped corners and unusable floorspace, so in reality, the usable square footage may be much less than advertised. The same also applies to ceiling height as if the ceiling is too low for a desk to fit comfortably, then it is also not fit for purpose. Likewise, any space taken up by furniture or fixed storage should be taken into account when calculating office area per person. Ideally, you should aim for an evenly shaped office that has a fairly balanced distribution of natural light throughout the day, to avoid any employees having to work in darker corners or cramped areas with lower headroom.
Location of Your Office Space
Depending on your budget, you may not have the means to provide your employees with spacious office space in the most desirable locations. In this case, choosing to locate your business just outside of cities or large towns is the perfect solution. Your employees can benefit from ample workspaces and generous communal areas, while your business keeps costs down.
How Many Employees are Full-Time vs Part-Time?
Part-time or remote workers will not always be in the office which means you do not need to provide a permanent desk for these employees. Implementing a hot desk system is an efficient way to down-size your office space while still following government guidelines and providing your employees with a safe and comfortable workspace, as and when they need it.
How Much Space is Needed for Each Department?
The amount of space needed will also depend on the number of employees in each department and the nature of their work. For example, a technology or data team may require a larger space to accommodate for multiple screens or bulky hardware. Whereas, a creative or content team may have the ability to work more flexibly from their laptops, without the need for a permanent deskspace. How much space you need for each department will also change depending on how often they are in the office rather than in meeting rooms or client offices.
Are You Looking to Expand Your Company in the Near Future?
Your projected growth will also play a part when deciding how much office space you need. You should take into account whether you will be expecting to expand your teams as, in this case, you will need an office with room to grow. It is recommended that you add 10-20% to the square footage you've calculated to accommodate for potential business expansion. Preparing for growth will help transition your business without any costly interruptions.
However, if you are planning to adopt more flexible working arrangements, this may not be necessary.
Which Equipment and Amenities Do You Require?
An office is filled with equipment and amenities, including desktop computers, keyboards, printers, photocopy machines, servers, meeting rooms, kitchens and much more. For a paper-based company, such as a lawyers or accountants office, this equipment is essential but can take up valuable floor and desk space, therefore should be factored in when choosing an appropriate office size. However, if you are a fully digital business, you may not require some of this equipment which makes it easier for you to save space.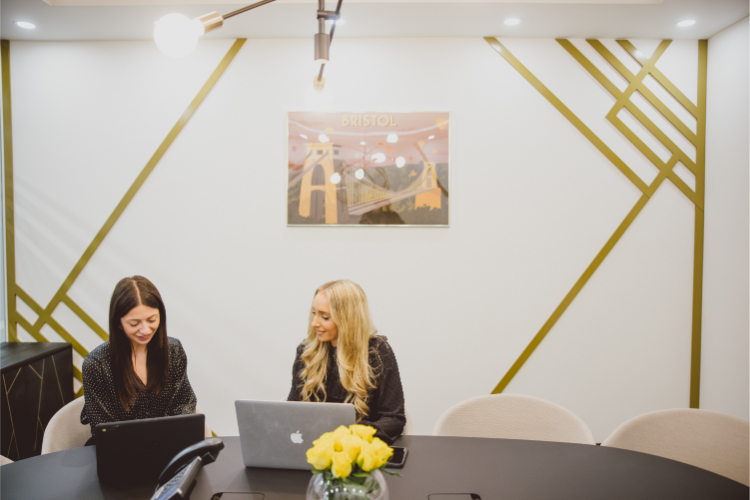 Understanding "Square Feet" Measurements
Typically, traditional office space is advertised and rented out by square footage however, for many of us, this is not something we are familiar with. Square footage can be confusing and make it difficult for you to visualise the space on offer. So, let us put it into perspective for you.
10 square feet is roughly the size of a bath towel (the area of 5 bath towels is best suited for an individual, private office)
200 square feet is roughly the size of a parking spot (perfect size for 2 employees)
400 square feet is roughly the size of a two-car garage (perfect for 4 employees)
Average Prices per Square Foot
In London, the average cost for commercial office space is between £650-£1500 per person per month however this is dependent on the location of the building, with some places costing up to £119 per square foot. The cost for office space per square foot is slightly less for smaller UK towns and big cities outside of London, including Leeds, Manchester and Birmingham.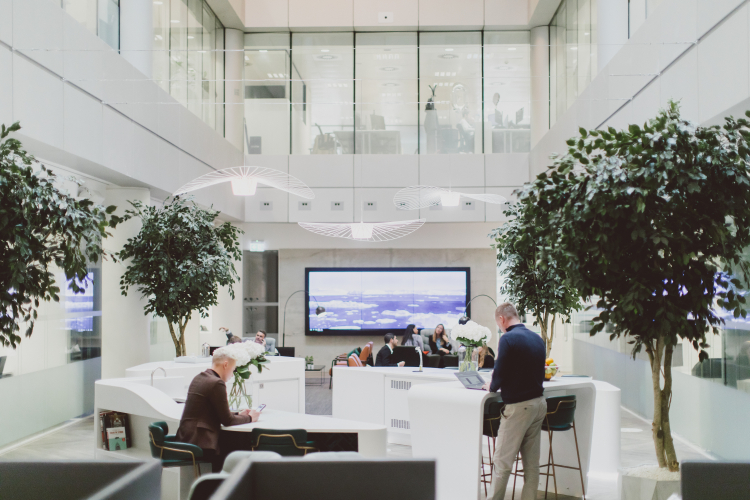 Orega's Offices
At Orega, we offer a range of office sizes to cater for 1-100+ employees, as well as coworking spaces, suitable for small, medium and large businesses. Coworking spaces are open-plan workspaces, designed for team collaboration and networking, and are most popular among self-employed workers, freelancers, startups and creative companies. We offer a flexible office solution that allows you to expand into larger spaces or down-size into smaller offices when required.
Our offices are equipped with the latest technology, professional meeting rooms, tidy communal areas and first-class customer service. Our committed teams are available to deliver administrative, IT and building support services meaning your business can focus on what matters most while we take care of the rest.
To find out more about our serviced offices, please get in touch with our team.