Employers are always on the lookout for effective ways to increase work productivity. From ensuring the office layout is designed to maximise productivity, to encouraging a workplace atmosphere that cultivates it - Orega office experts discuss what factors and serviced office features really can have an impact on the productivity of your office space.
THE IMPORTANCE OF A PRODUCTIVE OFFICE SPACE
One of the fundamental ways to encourage workplace productivity is by having an office space available for your employees throughout the working week.
Whilst it is true that the hybrid approach, where workers divide their working week between the office and home, has had little to no impact on productivity - maintaining a vibrant office space for employees is by no means redundant. Allowing employees and employers alike the flexibility and freedom to work from the location that best suits them on any given day is fast becoming a prerequisite of modern work. The foundation to this approach is providing an office space to act as headquarters for the business, and a place for colleagues to touch base with each other, host meetings, and so on.
Many of the physical and practical features of an office influence employees' work output, but office spaces can also encourage productivity in other ways!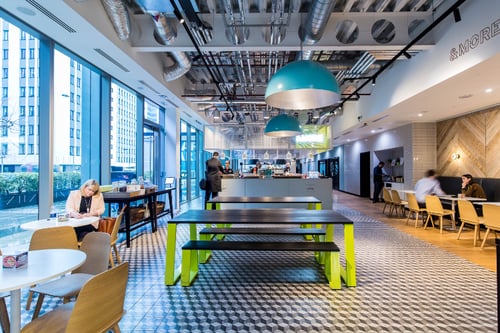 In our recent survey, 66% of employees said that they see the office an important place for collaboration. And collaboration in itself plays an important role in overall productivity.
Collaboration can foster strong professional relationships, which in turn encourage productivity and innovation across businesses, according to a 2015 study.
The overall company culture, morale and happiness of employees, and workplace interactions and friendships, are all best cultivated face-to-face, in an office. For instance, encouraging communal eating in a dedicated dining space has been proven to be beneficial to productivity levels, according to 2015 research.
These factors work together, along with physical elements of your office space, to increase productivity.
WHAT IS NEEDED TO CREATE A PRODUCTIVE OFFICE SPACE?
Creating the right culture and atmosphere within your office is important, and largely influenced by the company's mission and employer encouragement of employees. But there are also physical aspects of an office to consider, which have been proven to aid productivity in the workplace.
Employers know that having an office is essential to the productivity of their business - 78% of those surveyed in our future of the office report thought so - but do they know what particular office features and layouts employees most favour for boosting their work output?
QUIET WORKSPACES
With most offices nowadays being open plan, the need for private quiet workspaces and meeting rooms is vital for allowing productivity. Whilst some employees might thrive surrounded by the buzz of an office, there are some who need a quiet environment in which to focus. Ensuring both types of space are available is key for allowing your staff to do their best work! In fact, 69% of respondents said that a quiet place to concentrate was an important feature in an office for them.
ENCOURAGING MOVEMENT
Movement throughout the day also impacts focus, and there are certain things that can be applied in an office to encourage this. An increasingly common practice is to integrate standing desks - moving from sitting to standing throughout the day can help employees maintain focus.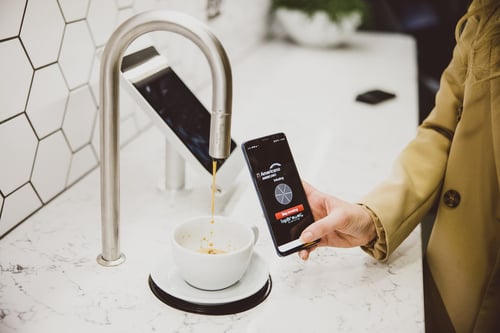 Having water coolers and coffee machines placed away from desks, perhaps in a communal kitchen space, is also an effective, easy way to encourage movement breaks. Just those few minutes spent walking to top up hydration levels can play a part in aiding productivity throughout the day!
INCLUDING PLANTS IN YOUR OFFICE SPACE
There is no denying that incorporating plants into our interiors has become increasingly popular over the years, and there is no reason why the greenery shouldn't spread to the workplace too!
Plants are an excellent addition to an office - they make a space feel alive, which is good for morale, as well as providing clean air. In fact, a 2019 study has shown that exposure to plants makes workers feel less stressed and more productive.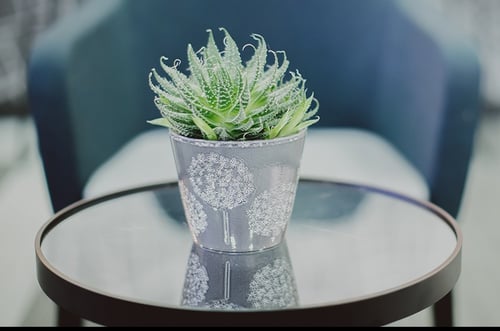 PRESENCE OF NATURAL LIGHT
Old depictions of offices were always of poky, neon-lit cubicles, typically inspiring dread and not productivity. There's a reason office design such as that has been left in the past.
Natural light is an essential feature of a modern productive office - employees don't want to be boxed away in dimly lit offices. Flooding offices with natural light boosts productivity for obvious reasons - you're unlikely to doze off with sunlight streaming in.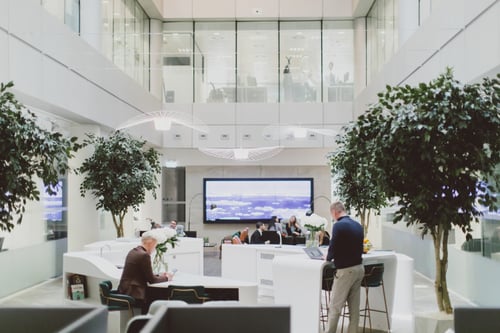 But natural light isn't just easier on the eyes, it also helps regulate our circadian rhythm, ensuring we have a healthy sleep cycle, which in turn has a major influence on our productivity level.
HOW OREGA OFFICE SPACES ARE DESIGNED WITH PRODUCTIVITY IN MIND
Orega office spaces are designed to ensure both employers and employees get the most out of them, helping each of our customers to work effectively throughout the day.
Whilst our office spaces can be bespoke designed to your layout preferences, they automatically come equipped with a number of features to cultivate a positive work environment:
Reliable, fast internet connection - reducing workplace frustrations
Natural light - beneficial to employee health
Quality sound proofing - to ensure privacy and spaces to focus
Climate control - allowing employees to work in a comfortable environment
Breakout spaces - giving employees room to collaborate
Quiet focus spaces - allowing employees to work privately with no distractions
Unlimited barista style coffee and filter water - encouraging hydration and movement throughout the day.

In addition to these key features, meeting rooms are available to hire and there are communal spaces available too.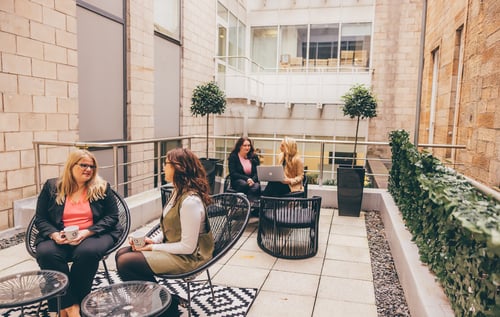 If you are looking for a new office space that is design-led and encourages productivity in a healthy and happy workplace, get in touch today!