Located in West Central Scotland, Glasgow is the largest city in the country, boasting a vibrant culture, impressive history and a beautiful landscape. Being home to over a hundred cultural and artistic organisations, one of the world's oldest underground railway systems and the world's first ultrasound machine, Scotland has been the birthplace for many innovations. In fact, Glasgow became one of Europe's top financial districts in 2001 when the International Financial Services District (IFSD) was launched.
But why should you consider Glasgow for your business?
1. Transport Links
Glasgow is well connected. Your employees don't need to live in the city-centre for a short commute, there are numerous bus routes and train lines that quickly get you to the suburbs in no time. Not to mention the subway, which is arguably the best way to get around the city, in fact, it takes just 24 minutes to get around all 15 stations!

Although it's not just commuters that will benefit from Glasgow's railway infrastructure. Glasgow Central Station offers routes to London, Manchester, Liverpool and Birmingham, making those client meetings all the more accessible. For international catch ups, Glasgow Airport is just a 20 minute car journey from the city centre.
2. Value for money
Especially when compared to the costs of London, Glasgow is a much more affordable option. Not just when it comes to office space but also the cost of living for your employees. So if you're looking to relocate and need to think about convenience for your employees, considering cost is key.
3. Range of office space available
Glasgow offers a full range of office space solutions, including Orega's rented office space. Located in George Square and St Vincent Street, both offer excellent on-site facilities, meeting room hire, business lounge, IT and telecoms and more. Being in the city-centre, both offices are nearby local bus routes and train lines making for the ideal business location.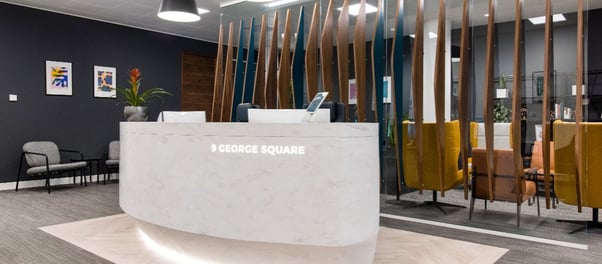 4. New talent
Locating your business to Glasgow also gives you the opportunity to scout new talent who are graduating from one of the four universities in Glasgow, all of which are highly respected across the UK.
5. The birthplace of a number of famous brands
Still not convinced whether Glasgow should be considered for your business? It's good enough for the likes of Lipton and House of Fraser! That's right, Lipton was founded by Sir Thomas Lipton in 1871 whilst House of Fraser was established in 1849, originally named Arthur and Fraser.


Orega offers a number of office space solutions, including:
Virtual offices - ideal for small businesses looking to expand or start ups who don't necessarily need physical office space. You can choose from a range of packages, including MyOrega Mail, MyOrega Business Address and MyOrega Virtual Office Pro -

compare packages now.



Serviced offices - fully-furnished, modern office space in a number of locations across the UK that include quality on-site facilities, with a dedicated on-hand team to support your business needs, find out more.
Meeting rooms - meeting room hire across a number of our serviced office locations. Whether you need to hold interviews, client meetings or training sessions, we'll ensure you're set up with the right IT tech and any refreshments.
Other Orega locations in the North include Leeds, Liverpool, Manchester Piccadilly and Manchester King Street. Find out which location is best for your business by taking our quiz. You'll also have the chance to win a FREE meeting room worth up to £1300.