Surrounded by London's most iconic buildings - The Shard, The Gherkin and The Walkie Talkie - as well as international companies like Allianz Services, XL Catlin and Bloomberg, Orega Gracechurch Street makes a perfect base for any business.
70 Gracechurch Street is located in the heart of the financial and insurance districts, on the corner of Fenchurch Street - only minutes away from Bank, Monument & Fenchurch Street stations.
Did you know Gracechurch Street runs directly over the site of a Roman forum? The remains are still visible in the basement of a barber's shop beneath the vibrant Leadenhall market. It's one of the oldest markets in London, dating from the 14th century, which was also featured in the film Harry Potter and the Philosopher's Stone.
There are an abundance of restaurants, bars and cafés to suit all culinary tastes, all within short walking distance. Read on for our top tips.
WHERE TO STAY
Looking for a place to stay? Here are our favourite picks around Gracechurch Street:
With the closest proximity to Orega Gracechurch Street, 4-star hotel Club Quarters Hotel, Gracechurch is a perfect place to stay for both business related trips but also city breaks. Adjacent to Leadenhall Market, guests enjoy the close proximity to business and leisure destinations alike.
Want more independence and flexibility? 4-star serviced apartments chain Go Native Monument are a great alternative to a hotel and ideal for business travellers, groups of friends, families and couples. Each apartment is fully equipped and offers a home experience.
If you prefer something more luxurious, book yourself into Threadneedles, Autograph Collection by Marriott - a former Victorian bank which has been transformed into a discreet, boutique-style 5-star hotel.
WHERE TO DRINK COFFEE
Need a coffee fix near Gracechurch Street or a place to work - other than Orega's coworking space - while enjoying a good coffee? Here are our 3 favourite coffee shops:
Right outside Orega Gracechruch Street, you can find world-famous coffeehouse chain Starbucks, which is known for its signature roasts, light bites and Wi-Fi availability.
Prefer an independent coffee house instead? Try Curators Coffee Studio, a true hidden gem that can be found just around the corner. It's a specialty coffee house that was created by a small group of antipodeans who are devoted to great tasting coffee, tea and freshly prepared food.
Serious coffee drinkers should head to Taylor St Baristas - Bank. This hip, urban style coffee shop serves direct trade coffee and is known for its artesian roasts, brunch, bites and cakes.
WHERE TO SATISFY YOUR HUNGER
Forget the sad desk lunch. Your lunch break is the time to get out and try our favourite restaurant recommendations.
Looking for something fast and affordable? Grab your lunch at Japanese takeaway chain Itsu, healthy fast-food chain Pure or sandwich shop Pret A Manger. All three breakfast & lunch spots are located on Gracechurch Street right next to Orega.
Prefer a cosy atmosphere? Head to The Folly - a garden-inspired restaurant, deli and bar which offers a seasonal menu with international flavours - or Loch Fyne Seafood and Grill Restaurant for the most delicious fish and seafood dishes.
Fancy something spicier? Savour traditional Indian cuisine at Bangalore Express City or Afro-Portuguese, flame-grilled chicken at Nandos.
Want to enjoy an elegant supper or impress your client? Gaucho is housed in the historic gold vaults of the Old Bank of England and serves quality beef from Argentina combined with the finest wines.
WHERE TO GO FOR AFTER-WORK DRINKS
What better way to reward yourself for a hard day's work than with a cold beer, wine or cocktail after work? Here are our favourite places near Orega Gracechurch Street:
If you love craft beer, you must try The Crosse Keys, a spacious pub with a huge beer selection in a former bank, or Old Tom's Bar, a cosy cellar bar with 19th-century tilled walls and the best regional craft beers.
Wine lovers should head straight to Bedales of Leadenhall, a hidden wine bar and vault under Leadenhall Market, where you can taste your way through some of the finest wines.
You're more into cocktails? Make sure to try our favourite cocktail bars nearby:
Located on the 35th floor of the 'Walkie-Talkie' building the Sky Pod Bar offers not only creative cocktails but also spectacular views across the city.
Hidden in a basement, The Bootlegger is one of the best 1920s themed bars in London. Alongside Gatsby-inspired cocktails, you can enjoy live jazz music and Charleston acts to fully capture the prohibition spirit.
If you're looking for a Happy Hour venue for after work catch-ups or special occasions, head to Be At One, Dirty Martini, Forge or London Cocktail Club. All four cocktail bars are only a 4-minute walk from Orega Gracechurch Street.
WHERE TO WORKOUT AND PAMPER YOURSELF
If you're looking for a local gym to get fit and healthy, the good news is there are plenty with a great variety of facilities and classes around Gracechurch Street.
Fitness First - Gracechurch Street, conveniently located just across Orega Gracechruch Street, offers members a fantastic space to workout, relax and socialise.
Gymbox - Bank, Virgin Active - Cannon Street and PureGym - Aldgate are also only minutes away.
Obsessed with cycling? Then join Cyclebeat for the ultimate, 'party on a bike' experience for that full body workout!
In need of a facial? Head to ASKINOLOGY an award-winning facial bar & skin clinic inside of Leadenhall Market or Pure Spa & Beauty and enjoy luxury spa & beauty treatments.
WHERE TO SHOP
There are plenty of shopping options available around Orega Gracechurch Street to satisfy your shopping needs. These are our favourite ones:
Leadenhall Market, just around the corner, is one of the oldest markets in London and home to a number of boutique retailers.
Conveniently located right outside Orega Gracechurch Street, Marks & Spencer offers a wide range of products from clothing, beauty and homeware to high-quality food.
If you're looking for high street and designer brands, head across the street to TK Maxx, GAP or Leadenhall Market and shop until you drop.
WHERE TO NETWORK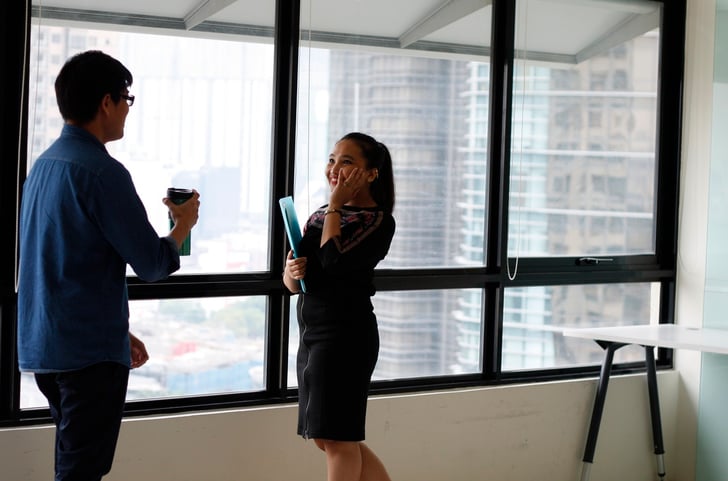 Networking events are a great way to meet new people and find new business partner and clients.
Join the London Business Community for the fortnightly held City Breakfast Networking event or read our blog for some tips on how to find other networking events in your area.
If you're thinking of hosting your own networking event, come and have a look at the beautifully designed and spacious atrium at Orega Gracechurch Street.
Or, are you looking for office space in the heart of London's insurance and finance district? Get in touch for more information and to book a tour.
Disclaimer: All information provided displayed in this blog are for informational purposes only and up-to-date at the time it was published.
Header image: Tiia Monto - Wikimedia