Are you looking to relocate your business? Maybe you're simply looking to expand? Whatever path you're taking your business, why not step into Leeds, a modern, compact city with a lot to offer. Located in West Yorkshire, Leeds has been the birthplace for many famous brands, including:
Tetley's Brewery. Yorkshire is known for homegrown tea but did you know Tetley's Brewery is based in Leeds? Founded in 1822 by Joshua Tetley.
In 1884, a Polish refugee named Michael Marks opened a market stall in Leeds and later merged with a former cashier named Thomas Spencer in 1894. Together they created what is now Marks and Spencers.
Fox's Biscuits originated just outside of Leeds in Batley, founded by Michael Spedding in 1853.
Asda was founded in Leeds in 1949 when the Asquith family merged their retail business with the Associated Dairies company. Whilst there are now hundreds around the country, Asda HQ still remains in Leeds.


So what makes Leeds a prime location for businesses?

Connectivity
Located in West Yorkshire, Leeds is in a great location for businesses that need to be accessible. International clients that need regular contact? A second office in London? Suppliers in Scotland? With both the M1 and A1 on your doorstep, you'll have direct links to London and Scotland. However, it's not just drivers that benefit, Leeds also has one of the busiest train stations that can get you to Manchester in one hour and London and Edinburgh in just a few more! Not to mention Leeds Bradford Airport that travels to 70 destinations and 30 countries across Europe, North America and Asia, making those international meetings a little easier.

Affordability
When it comes to searching for the perfect location for your business, you can't deny that cost is a big factor. Fortunately, Leeds is one of the more affordable options whilst still offering all of the great qualities that the likes of London and Manchester provide.

With so much choice for rented office space at a great price, you can ensure your business finds the perfect home. For example, Orega's serviced offices are located in Park Square, just a 7 minute walk from Leeds train station, 25 minute drive from Leeds Bradford Airport and 16 minutes from the M1. This gives your clients and colleagues the flexibility to work anywhere with your business headquarters being considerably cheaper than those of bigger city-centres.
Employment opportunities
Leeds may well be one of the smaller cities but that hasn't stopped them from building a mass of universities and colleges. Home to University of Leeds, Leeds Beckett, Leeds Metropolitan and Leeds Trinity, you'll also find a number of vocational institutions such as Leeds College of Art, Leeds College of Music and Leeds College of Building.

The city is continually producing new talent, meaning your workforce has the opportunity to employ graduates fresh out of their degree, ready to start up in the world of work.
Social culture
Full to the brim of vibrant bars, restaurants, venues and entertainment, Leeds offers much more than the classic business scene. The vast amount of venues make hosting meetings with prospects a great opportunity to create a great first impression.

This social culture is a big benefit for attracting new employees and gives you the chance to offer team building activities and other networking opportunities. Not to mention a great meeting spot for those Friday-night drinks to end the week.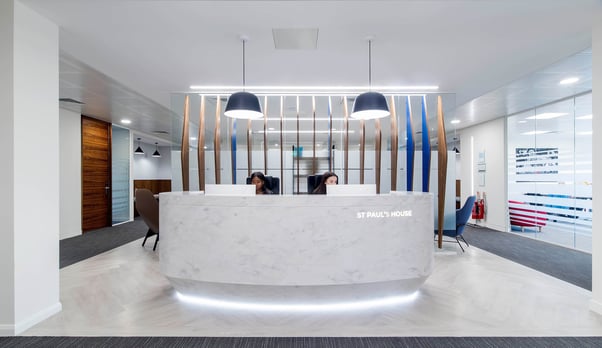 Here at Orega we have office locations across the UK, including Glasgow, Liverpool and Manchester. Find out which Northern location is best for your business with our quiz. You'll also get the chance to win a FREE meeting room worth up to £1300.
Header image: Unsplash